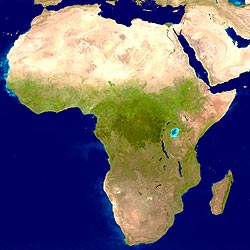 Free coffee, wi-fi and pumping music tunes was how more than 800 tech geeks, freaks, entrepreneurs and industry leaders were greeted at the Net Prophet Conference in Cape Town on Thursday.
With an impressive line-up of speakers and the sense of a growing tech community in the Silicon Cape, it was no surprise to see a packed and enthusiastic auditorium at Old Mutual Park.
Speakers included Erik Hersman, co-founder of Ushahidi.com, and Mocality.com CEO Stefan Magdalinski, who shared insights on mobile and internet innovation in Africa — and how South African entrepreneurs in particular are well-placed to take advantage of it.
Hersman, who was raised in Sudan and Kenya, is also the founder of AfriGadget, and is considered an expert on understanding innovation and technology within an African context.
Pointing to a large map of Africa, Hersman stressed that Africa is an "untapped sea of tech opportunity", but to take advantage of this requires a different entrepreneur with a different mindset.
Referencing Mobile Planet CEO Karanja Machari from Kenya, and iYam.mobi co-founder Fritz Ekwoge from Cameroon, Hersman explained that what makes them different is their understanding of how to "bridge the gap" between tech and culture in their respective countries.
Mobile Planet specialises in the development of wireless voice and data applications for mobile devices in Kenya, with a special focus on SMS-based products and services, while iYam.mobi is a mobile phone directory in Cameroon that returns numbers via SMS.
Both Machari and Ekwoge have been successful because they have built products for what the people in their countries need now, not what "tech pundits in the West are talking about", stressed Hersman, who has travelled extensively across the continent.
While Hersman said that the future is not SMS, it is the present reality on the continent and in South Africa right now to a large extent. If you want to take advantage of this you need to get out of your "comfort zone" as an entrepreneur and understand the present reality of the mass market.
Mocality.com CEO Stefan Magdalinski echoed Hersman's sentiments of opportunity, and said South African entrepreneurs are particularly well-placed to take advantage of the African explosion. He emphasised that tailored products for the middle-to-lower end of the market are needed, which is a huge consumer and mobile-savvy market in its own right.
Citing the success of Safari.com's M-PESA in Kenya, which is a service allowing you to transfer money using a mobile phone, Magdalinski stressed that the African market is mobile-savvy. He said that one only needs to look at 3G dongle-selling street hawkers in Nairobi to realise that the "bottom of the pyramid" is a valuable and huge consumer market to focus on.
Magdalinski's advice was to focus on low-margin, high-volume products and that one only needs to look at Nokia handset numbers versus Apple iPhone numbers in Africa and South Africa to better understand the reality of those markets.
As we witness the fastest roll-out of broadband internet ever to occur across a continent, Magdalinski said Africa really does represent 54 fantastic opportunities. He said that South African entrepreneurs are better placed to understand the continent because there are many similarities in our own backyard in terms of mobile web use and penetration.
You can follow the conference's Twitter stream below:
Net Prophet was started in Cape Town by the RAMP Foundation, which is a non-profit entity created by the RAMP Group as a means for social investment within the local Internet based economy.
Comments
Related Articles
Topics for this article