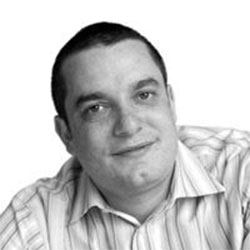 One of South Africa's most successful exports, web entrepreneur and venture capitalist Saul Klein, has labelled the cost of broadband in his home country "an absolute disgrace" and urged the members of The Silicon Cape to function as a pressure group in lobbying for cheaper broadband.
Klein, who was born in Johannesburg and is married to a South African, currently manages a $2.5-billion venture capital fund, and is a "massive believer" in early stage venture capital. His CV reads like a greatest hits of the Internet over the last 10 years, from early work at Blogger, last.fm and Betfair then on to Microsoft Passport, Skype and lovefilm.co.uk, until he "switched sides and became an investor."
Klein is now instrumental at Seedcamp,  a global network of mentors, advisors and capital that functions as "a catalyst for the next generation of great entrepreneurs and helps you take risks, think big, and succeed."
Speaking at Silicon Cape's third networking event earlier this week, Klein easily conveyed his passion about the quality of talent in South African and reeled off a list of quality South African web entrepreneurs. He believes firmly that Africa is rapidly becoming the next frontier of growth, and that South Africa is perfectly positioned to take advantage of the incredible opportunities that are going to be unfolding on the continent, particularly with regard to the mobile web.
Clearly at ease with his subject matter, Klein told the audience that Google had recognised the latent potential of Africa and was launching its African strategy, while Naspers had surprised everyone with what they had already achieved on the continent.
And yet the absence of cheap broadband is the single biggest obstacle to realising the dreams and aspirations of the local digital community in South Africa. In answer to a question about whether to locate a business here, he argued strongly for basing your operations locally, while setting up a global sales office in one of the major centres, seeing as South Africa "operates in  an attractive time-zone for Europe, the salaries are competitive, English is spoken and there is capital available."
Klein did however warn that with all the potential South Africa has, only a dramatic reduction in the cost of Internet access is going to lead to the growth that organisations such as Silicon Cape and its members are aiming for.
Comments
Related Articles
Topics for this article