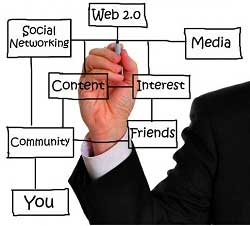 When musician Dave Carroll flew on United Airlines, his guitar was broken by careless baggage handlers. Employees and customer care were indifferent and the airline offered no compensation. So Dave responded by creating a music video called "United breaks guitars" and United felt the wrath of citizen journalism, the social web, and millions of airline travellers.
In just 10 days the video received nearly four million views and over fifteen thousand comments on YouTube, and to date the video has been watched over nine million times.
It's an example of how well technology works for the consumers dealing with large corporate. But increasingly outward facing social media (such as Facebook, Twitter, LinkedIn and the like) have become de rigueur in the corporate field. Business has moved, cautiously, sometimes reluctantly, towards adopting social media as a regular channel.
Today, companies investing in technology and innovation should try to empower their employees, service providers and partners. Social media is established as the platform of choice for collaboration, knowledge management and social learning within the enterprise space.
Forrester Research reported last year that 27 percent of information workers regularly access web sites that the company doesn't sanction, (LinkedIn or Google Docs for example), for work purposes. 12 percent download applications not provided by the company, (like video editors), and eight percent are using smart phones and paying for it themselves … for work purposes.
IT no longer controls technology within the company, workers do. Calamity? No, just a new way of working — smarter, faster and a breeding ground for innovation. Employees who know their job and collaborate with employees who know their jobs use technology to solve customer problems.
It's actually working, even at large companies, like US retail giant Best Buy – where, on a collaboration platform, with access to a wealth of product, pricing and image data, developers can now implement useful third-party applications to track rapidly dropping retail prices. It all started with a website staffer who used his spare time to adapt a Twitter application. Now it solves problems like how 2 500 hourly staffers can microblog without violating labour laws. These are empowered employees.
Pfizer created Pfizerpedia in 2006 when two employees launched a blog and a wiki as individual initiatives. The corporation has leveraged the interactive-community-based tool ever since adoption within the organisation began to snowball. Pfizerpedia grew virally, 13 000 individual users worldwide engaged and contributed within a year of launch.
Research institute Hershey Center for Applied Research (HCAR) is a single example of an organisation, inspired by the success of the Pfizer experience, that has launched a similar initiative. The center created KnowledgeMesh, an online meeting ground for the life sciences community, including scientists, researchers, venture capitalists, and educators.
Holiday resorts group Vail Resorts turned its media policy around and embraced social media. It hired social media staffers instead of buying magazine ads, and trained the staff on how to turn pictures, videos and tweets into fast-spreading, word-of-mouth ads.
At Dell, Manish Mehta manages so many social initiatives that he reports directly to the CMO and runs a council of high level execs who share best practices weekly.
And in South Africa, national airline SAA implemented Wildfire in a bold pilot project to create private groups within a larger network to bring 180 managers together and develop strategy across organisational boundaries.
NGOs like LINC, Bridge and POWA are increasingly leveraging social networks to provide virtual workspaces for their geographically dispersed stakeholders.
These companies are agile, they act quickly. What emerges is an ability to innovate as a matter of course. Employees feel empowered to create and contribute, rather than leave it to their management or the research and developments departments. These employees typically know more about customers than they do about technology. They need to understand the challenges and be supported by their managers and IT people.
This shift is the future of daily work it may lead to an inversion in the power structure of companies. Companies already on this road have a head start. It's a brave new world.
Comments
Related Articles on the Web
Topics for this article