Almost a year ago, or eleven months ago to be precise, a brilliant crowd-based angel investment project was introduced to the South African tech startup stage, called Crowdfund. The idea, started by well-known web strategist Eve Dmochowska, included big plans for crowdsourcing funds for worthy local startups.
The idea behind it all was to provide the capital, know-how and networking capability required by young entrepreneurs to launch prototypes of their ideas, in exchange for equity — a dream come true for any entrepreneur.
Dmochowska's project shot off the starting blocks like Usain Bolt at the Olympics. By the end of the first month, Crowdfund had pulled together 229 investors who had pledged to raise more than R1-million in capital for budding startups.
The worthy initiative attracted writeups from major publications such as Fin24, prominent bloggers and even a piece from this site.
"I've been amazed by the interest. We've only really marketed via Twitter so far and are only looking at doing a formal press release next week," Dmochowska told Fin24.com in March 2010. To date, the project has 421 investors-to-be who have pledged more than R1.3-million in total.
It also attracted support, interest and pledges from some of the online industry's leading web entrepreneurs including Yola CEO Vinny Lingham, recently appointed Quirk CEO Justin Spratt, MD of Technovated Gareth Knight and Avusa Media Live GM Elan Lohmann, who all serve on the project's advisory board.
But after all the hype and the hoopla, CrowdFund seems to have gone disappointingly quiet. When Memeburn initially contacted Dmochowska in January this year to get an update on the project it reported on last year, a promise to come back to us did not materialise. Repeated attempts by Memeburn to contact Dmochowska over a space of four weeks by email and phone went unanswered or were unsuccessful.
Furthermore, there's been little news forthcoming from the official CrowdFund site itself. At the time of publishing CrowdFund's own blog showed no updates on the project, still marked "Coming Soon". The date stamp indicated no activity since July 2010.
The last official blog posts on the project go as far back as April 2010 on a related blog called Digital Garage, detailing the first, and apparently only, board meeting. Another other post, "Filtering the applications for funding", go as far back as April last year — about nine months ago.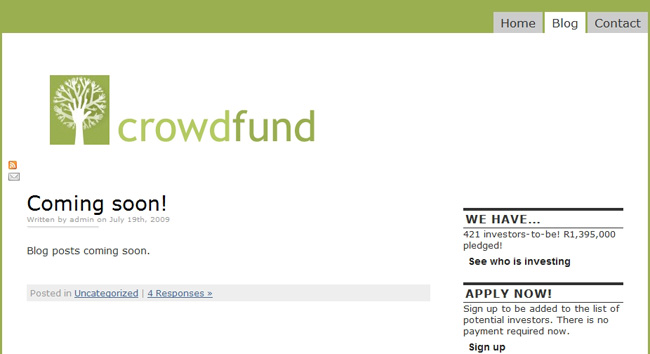 When Memeburn contacted Dmochowska about four weeks ago in January, the CrowdFund founder confirmed a "meeting with the lawyers next week" and a promise of an update. Since then, repeated attempts to get hold of Dmochowska have been unsuccessful.
Memeburn contacted a sample of the 413 would-be investors who had collectively pledged to invest a total of R1 395 000. All the investors Memeburn contacted confirmed there had been no contact from CrowdFund in the form of a progress update or to collect on the amounts pledged as far back as mid 2010.
An investor who wished to remain anonymous said he had forgotten what he had pledged: "I don't even remember how much I pledged it was so long ago. What is it a year now?"
Another investor added: "I think it's pretty dormant. I contacted them last year. Took about two weeks for them to respond to my email."
The question remains just how successful CrowdFund can be in collecting the almost 1,4m in pledges, now almost 11 months since the initiative first launched.
Unable to talk to the founder, Memeburn contacted three of the CrowdFund board members. All three confirmed they had received no communication from the project in at least the last six months, and said they were in the dark.
Lingham, who is on the board, said to Memeburn when asked about the project: "You probably know better than I do. I havent heard anything from her, which is kind of weird."
Another board member, who wished to remain anonymous, said that Dmochomska has "just disappeared. I just never heard from her." Another said that he has "literally" heard nothing "since it was started".
CrowdFund follows a similar model to overseas projects like Sponsume, Kickstarter, IndieGoGo and many more.
It's a worthy initiative that has got some early traction and big buy-in from some major industry personalities keen to invest in the next homegrown Zuckerbergs, Larry Pages or Sergey Brins.
We're sure the industry would like to see some action, and get an update on an initiative it so enthusiastically supported almost one year ago.
Comments
Related Articles on the Web
Topics for this article