Snaply: Taking the 'exclusivity out' of eCommerce site building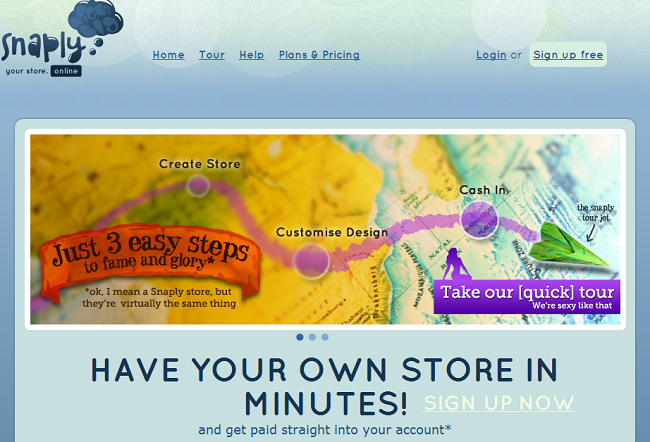 As society moves more into the online sphere, the need to do practically everything online grows. eCommerce sites are growing bigger and adding more products online. What began with just DVDs and books sales online has now moved to helicopters, real estate and ridiculous items such as actual human beings and
Twitter
accounts being auctioned off on
eBay
.
Companies that want to be taken seriously in this economic climate need to stake their claim online. Buying and selling online is a growing trend that cannot be ignored and companies that rely on a steady sales stream need to cater for the online market. But eCommerce site building is slowly rising to accommodate the need for online stores. The problem however is that most small businesses lack the capacity or the technical ability to build their own eCommerce site.
Enter Snaply — a Cape Town-based startup that describes itself as "an all-in-one eCommerce solution that allows people to open a store online and have an integrated online payment system in minutes instead of hours or days." This is approximately what others such as BigCartel, Shopify and the South African-based ShopDirect do.
But there are subtle differences. "eCommerce in South Africa has traditionally been reserved for those with the know-how of shopping cart integration or those with enough money to pay someone else for that know-how. With Snaply, we've taken that exclusivity out of the equation and made it affordable and easy enough for anyone to open a store online," says Jonathan Page, Snaply co-founder.
Launched in March 2011, Snaply is funded by the online classifieds service,TheClassifieds. The company is owned by TheClassifieds shareholders, Jonathan Page, Jonathan Smit and eCommerce heavyweight Bid or Buy. The startup is what Page refers to as "a revolutionary new product in the South African online market space".
Only just launched, and already it is generating interest from the South African tech landscape, with veterans such as Vincent Maher tweeting about its potential.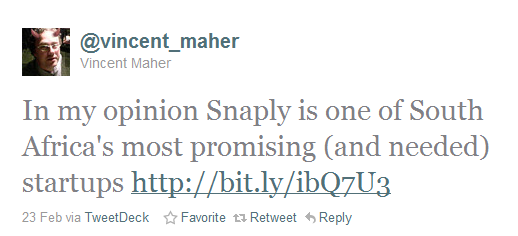 Snaply allows individuals to create an online store by just providing a name (x.snaply.com) and an email address. Once these details are received, it creates a full transacting website within seconds. According to the startup, managing the created store is easy and straight forward.
Page explains that store owners who are not too familiar with online payments don't have to worry as the site "supports the Payfast payment gateway, which provides the seller with a secure online payment system. The seller will be able to accept payments via credit cards, instant EFT, uKash as well as from any funds in their Payfast wallet."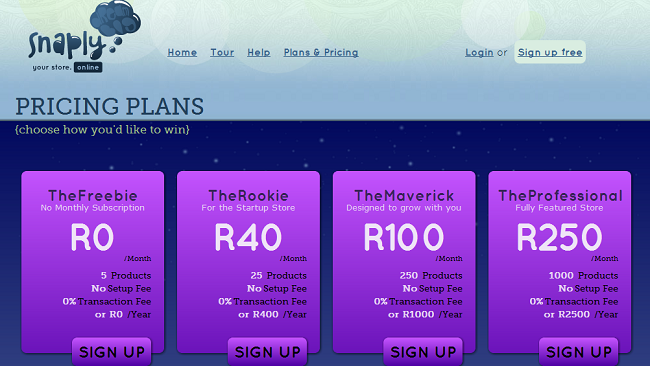 Snaply offers a range of accounts that online store seekers can choose from. There is the 'The Freebie' — a free account that allows store owners to add five products to the store. Paid accounts range from R40 to R250 for the professional accounts. Product additions for the paid accounts range from R25 to R250, and store owners who wish to add more products they are welcome to do so.
The site has very few restrictions on what names can be registered. "We are pretty flexible," says Page. "We just don't want people selling illegal stuff or anything dangerous like handguns or drugs for instance. We've all learnt from the Craigslist killer."
According to Page, the site has more than 75 people interested in creating stores with Snaply at present. Although the site is unable to release any of the chosen domain names just as yet.
Snaply has big plans for the future, including plans to move into other African countries such as Nigeria and Kenyan. "We are a dot[.]com so it will be very easy to transition into a global market. But I don't like to think of it as 'just South African' anyone, anywhere can use Snaply."
theclassifieds.snaply.com has been created to show those interested just how easy and possible it is to create a store. Snaply will release a store directory later this week which will list all stores that are currently active.