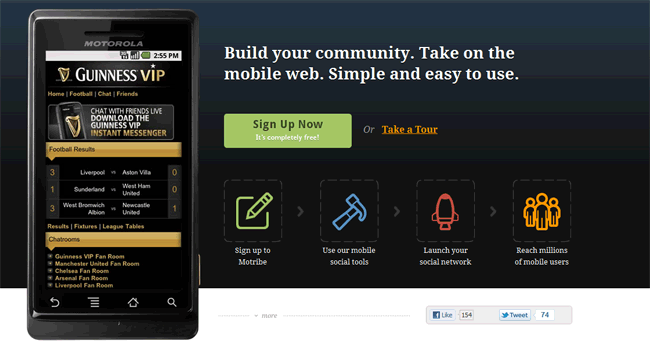 Memeburn has it on good authority that Motribe, the relatively-new mobile social networking platform that empowers users across the world with tools to build and manage their own mobile social network, claims to have now hit the "one million user mark".
The venture capital-backed startup focuses its attention primarily on emerging markets in Asia and to some extent Africa, and markets itself heavily on mobile advertising networks like Google Adsense for mobile and Admob — where much of the service's traffic is thought to emanate. Motribe is backed by early-stage venture capital company 4DiCapital, which forms part of international business tycoon Johann Rupert's empire.
The Cape Town-based company announced it is throwing an exclusive party to celebrate reaching the milestone.
Founded by South African internet veterans, Vincent Maher and Nic Haralambous,  Motribe allows users to build and manage their own mobile social communities, which the founders refers to as "social mobisites". The platform has both a business-to-consumer and business-to-business presence, geared towards users, brands, agencies and publishers and includes features such as blogs, photo-sharing, location tracking, advertising, demographics and chatroom functions all within an easy-to-use drag-and-drop layout. The Motribe platform is free and caters for all levels of engagement – allowing users to simply sign up and receive a mobile social community.
"Motribe's primary function is to reduce the initial cost and time overhead of developing a mobile community. In many cases community-building is experimental and should, in theory anyway, be a low-risk endeavor," Maher explains on the company's official blog.
"The mobile web market is on the verge of cracking wide open. Users are looking for ways to connect, on their mobile phones, with others who share similar interests. People want to take their social networks with them wherever they go and stay engaged all the time," Maher continues.
By reducing the complexity around building mobile community sites, the feature-rich platform has enjoyed successful growth and has received positive publicity.
From partnering with a US mission-based non-profit to creating the mobile platform ConnectUS which aimed to expand the online community by delivering information on visas, education opportunities and Embassy offices, presidential statements and more to mobile users in South Africa.  The platform was also selected by the Omidyar-linked Praekelt development agency for the Guinness VIP football campaign in Nigeria last year. It was also used to cover the presidential elections in Côte d'Ivoire in 2010.
Within the first month of its launch, Motribe claimed to have hit 42 000 registered users with around 6% of the entire base active over a 24-hour rolling period. Then, in January of this year, the startup claimed to have reached the half-million user milestone.
While details around the exclusive celebration remain sketchy and information around Motribe's new one million-user milestone scarce, these new rumours may just be spot on.
Comments
Related Articles on the Web
Topics for this article