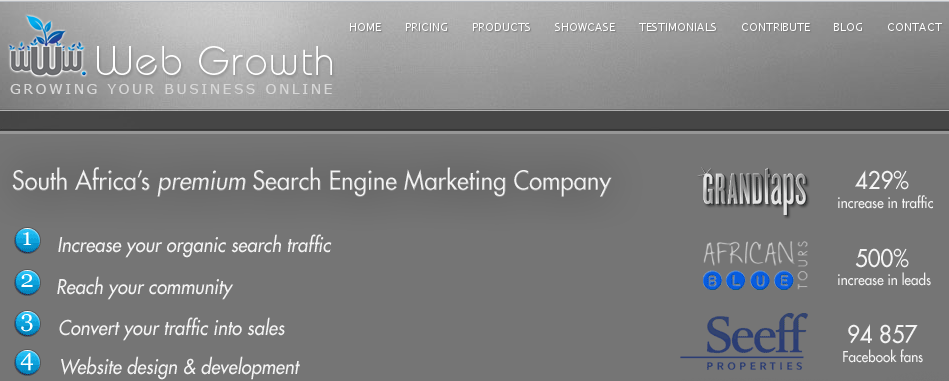 Many companies want to rank better in search. Many SEO tricks have seen companies try to fight their way to number one. Google's Panda has made things a little difficult for a few companies. Many SEO consultants claim to be able to help companies caught in the "Panda's" grip. Help companies work well with the "Panda".
One such company is WebGrowth, a South African-based startup has a project management tool for SEO research using Google analytics, Google webmaster tools and Majestic SEO designed to meet the need – pulling data from the net to focus on boosting the profile of South African companies.
In the mind of its founder, WebGrowth offer an "important service" that allows businesses and online agencies the space to manage their own SEO campaigns in house. "It's perfect for reporting back to clients so they can track and measure success of the campaigns," claims Neil Pursey, who says his company offers an easily accessible and manageable product, "especially for small businesses". The company is increasingly focused on gaining market share amongst larger corporate clients.
The self-funded startup targets any business wanting their website ranked higher up in the search engines.
The service provides one click reporting into ppt, pdf or xls. and also includes "a full project management platform". Pursey says the reason is simple: his company wants to ensure a client's SEO campaigns don't become a "myriad of excel spreadsheets to manage", but can rather be run off one platform.
WebGrowth became a full-time venture in 2008, after its initial inception in 2006. After the first campaign for a friend became a success Pursey decided to pursue SEO full time. The entrepreneur says he has a passion for the "search industry" and has ambitions of making South Africa a global player in terms of SEO knowledge and services.
Pursey claims the company differentiates itself based on knowledgeable expertise in the SEO space alongside a proven track record. "We are one of the top rated SEO companies in South Africa and the top rated in Cape Town," he explains, using Google rankings to back-up the claim. "We also have a SEO tool that has full local support for South African businesses".
The company has been hovering between one and two in its ranking in recent months, as Pursey adds, seeing the company go through "great lengths" to hold the number one position.
According to Pursey, WebGrowth's offering — Project SEO — is a first of its kind and does have the capacity to ensure "social upliftment and up skilling the under privileged," an area where the company is placing some focus. When asked what the overall impact of WebGrowth could be, Pursey's vision is clear. "This can potentially change Africa if not the world," he notes.
In an exclusive conversation ahead of a public announcement, WebGrowth revealed its teaming up with four major companies to launch skills development workshop in early June
The team will consist of one of the top wordpress development companies in the world that is locally based – alongside a social media company already working in the poorer communities of Cape Town,
An organisation assisting non-profits in improving their marketability and an IT educational company based in the Eastern Cape are also include in the partnership.
"From WebGrowth's perspective we'll be teaching the students with the help of Project SEO, using the software to educate them more about SEO," he added, saying he could not reveal any more specifics.
Whether for CSI purposes or straight business purposes, the company's product, Project SEO, pulls data from a user's Google Analytics and webmaster tools account as well as majestic SEO link data.
"It's perfect for reporting back to clients so they can track and measure success of the campaigns," says Pursey who places his business firmly in the search engine marketing niche.
At present the company has no international strategy "Right now we want to focus on South Africa and develop the industry skills through social development," says Pursey. At present the WebGrowth's two primary competitors are Raven Tools and SEOmoz, both international companies.
Pursey's five year plan is clear however. We want to "be the leader in South African SEM (search engine marketing), offering a platform for companies to manage themselves and uplifting skills within the online marketing space."
Comments
Related Articles on the Web
Topics for this article