Mobicanvas hitting the bottom line with free mobile sites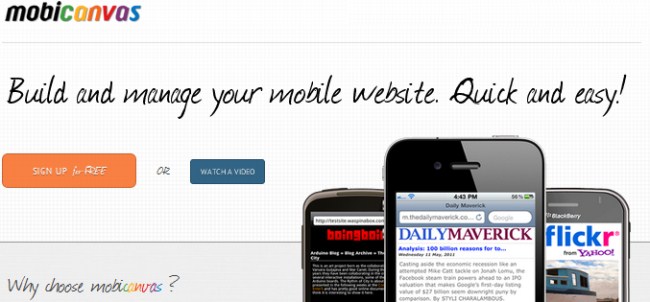 Creating mobile websites which can be viewed on any feature phone or smartphone has gained traction globally. One South African startup is capitalising by offering the service at no cost, while laying claim to a simple drag and drop interface.
Mobicanvas is a web tool that helps any business or individual to easily and cheaply build, promote and monetise its own mobile websites, claims Stephen Ballot, one of the company's co-founders.
The company promotes an easy-to-use drag and drop interface amongst its key features. "Building a mobile site, or any site for that matter, has never been easier", says Ballot. "Our other key features lie in the functionality supported by the various widgets we offer our customers. Incorporating your already existing Twitter feed on your page, for instance, is a simple drag and drop experience."
The company also offers an international bulk SMS interface with "really competitive rates". "This makes reaching existing contacts with your newly built Mobicanvas site a one-stop-shop experience," claims Ballot
Not everyone, however, wants something for free if it includes advertising. "For those individuals who prefer to have pages served without advertising, we take those ads away for US$10 a month. The other major feature is that you can host your Mobicanvas site on any domain of your choosing, even though we offer free hosting on Mobicanvas.com," says Ballot.
Since sites without ads aren't free, what remains as selling points? "The user experience we provide when building a site is second to none and lastly our focus is on building something that not only works well, but also looks great", explains Ballot.
Ballot and fellow founder Vincent Fourie both agree there was no specific moment at which the company merged into its current form, "I wish it was a 'Eureka' moment," says the former, "but the honest truth is that Mobicanvas is the natural evolution of a mobile content management system into a focused site building solution".
"The need for individuals and businesses to be in the hands of the people, and those hands are holding mobile phones, is a gap in the market", and Mobicanvas can fill this gap, says Ballot.
The company is partly self, and partly venture funded. Self funding is provided by its holding company 6th Line and venture funding supplied by World of Avatar.
So, does Mobicanvas have the potential to change the world and gain significant market share in the process?
"A number of sectors and people have overlooked Africa as a source of a big economic boom, but we at Mobicanvas believe the future lies in Africa," argues Ballot.
"African technology businesses, especially on the mobile front, will be where the big next value driver for the continent will come from. A true African Renaissance will change the world," he adds.
Though Ballot's optimism may appear idealistic, African mobile penetration rates certainly backup the case for the potential of the African market. Mobile medical technology on the continent, for one, already appears to be advancing ahead of developed markets.
As it stands the company already holds a global reach. "We are seeing a lot of signups from the African continent as well as North America. In terms of our strategy we are very much focused on growing organically rather than through the traditional advertising routes."
The company primes certain regions with advertising in order to measure potential take up and then targets local key-influencers to jump on board the Mobicanvas train and spread the good word. Ballot claims the model is a sustainable one.
Competitors are an ever present threat though. For the most part they are international, and geared towards a strong focus on providing business-to-business solutions. Key players are Netbiscuits, Wapple, and Mobify.
"Locally we admire what the good people of motribe.com and thumbtribe.co.za are doing," adds Ballot.
Within the next five years the company envisions having made a difference on the African continent, while having "brought in a substantial amount of foreign capital into South Africa".
In business terms it is less of a bottom-line goal than a consequence of a good business strategy. Perhaps now, more than ever, Mobicanvas has its moment to shine.