New startup 22seven under fire from banks [Updated]
The high-profile launch of new financial management startup 22seven has faced some early criticism, from the very institutions it relies on: The banks.
Prolific tweeter and CEO of First National Bank (FNB) Michael Jordaan tweeted yesterday that he thought 22seven was a "cool concept", but warned "against disclosing password(s) to any 3rd party".
He ended his tweet with this ominous warning: "Risk all yours".
Getting tweets re 22seven. Cool concept but have to advise against disclosing password to any 3rd party. Risk all yours.

— Michael Jordaan (@MichaelJordaan) January 26, 2012
The innovative startup is the brainchild of Twenty20 founder Christo Davel, and is billed as an "intelligent money saving tool" that plugs directly and securely into users' personal bank accounts and then delivers analysis on spending habits.
The service buckled under the demand it experienced yesterday, with servers regularly crashing and users reporting issues with linking their accounts.
To begin using 22seven users are required to link their bank accounts to the service. A user supplies their personal bank information from one of the country's major banks that are pre-selected on the site. The company goes out of its way to show that this is a secure process.
Absa issues statement
Jordaan isn't alone in his thoughts. Another of South Africa's banks, ABSA, in a Facebook note last night said "Sites like 22seven conflict with the clear fraud awareness messaging sent out by all major banks, as well as the South African Banking Risk Association and the South African Police Force".
"Disclosing one's sensitive information renders the customer completely liable for any losses that may occur due to phishing or other online fraud, as per Absa's online banking terms and conditions disallowing customers from divulging their sensitive information to any third party," wrote the bank.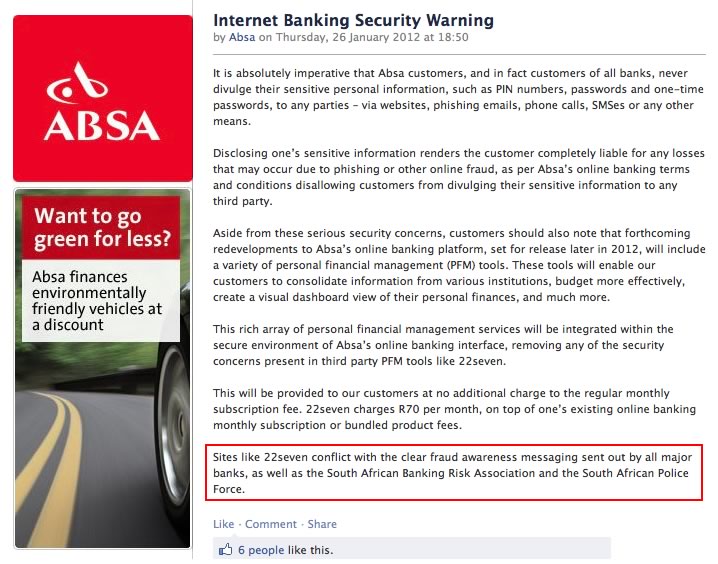 Absa also took the opportunity to punt its own forthcoming personal financial management tools which the bank indicated it would be rolling out in an upcoming portal redesign. The bank claimed it would offer these tools to its customers for free.
Nedbank's statement
Nedbank also released a Facebook statement making it the third major bank in the country to speak about the "risks associated with disclosing their personal credentials":
The use of Personal Financial Management (PFM) tools is a rising trend globally and in South Africa. It shows that people wish to be able to access their information easily and take greater ownership in managing their financial affairs. There are a number of solutions available in the market today. People making use of any PFM offering, need to be aware of the risks associated with disclosing their personal credentials to others and use service providers they trust.
22seven publishes extensive information on how it keeps users' details secure and the platform stresses the system is "read only", which means the service is unable to make changes to a users' personal account.
The service currently pulls user data through Yodlee, an online banking solution provider delivering money management solutions to leading banks and millions of consumers around the world.
22seven responds
Speaking to Memeburn, Davel said that he expected caution from banks as well as users. "People are right to be wary but we have partnered with one of the leading financial aggregators in the world. Yodlee has been in business for 11 years and has not had one breach in that time."
"Users should be cautious," he said. "But our system is read only and all your data is in your hands. Right now we are quite overwhelmed by the number of sign ups we've seen and hope to see more growth."
22seven is similar to Mint.com, a free web-based personal financial management service for the US and Canada. The service which was launched in 2006 now has more than 3-million users and was named one of Time Magazine's best websites of 2010, as well as one of PCMag's best free software of 2010.