Fabhunter: The new visual bookmarking startup with big dreams
Tastemakers. Trendsetters. Fashionistas. Fabhunter aims to become a nexus where these fashion aficionados collide.
Launched in January of this year, Fabhunter is a new "social fashion discovery engine" that relies on user generated content to facilitate fashion discovery and trend forecasting. As a collective, Fabhunter aims to become a harbinger for fashion trends, but also a platform where individuals can become tastemakers by showcasing their fashion sense and intuition about trends through visual bookmarking.
Fabhunter is self-funded and was founded by Werner Geyser who previously served as the business development manager at World of Avatar, the South African VC-incubator hybrid that recently acquired Africa's largest Social Networking Platform – MXit.
Similar to other visual bookmarking sites like We Heart It, Pinterest and Polyvore, Fabhunter allows its users to use a bookmarklet to directly share images found on websites to their own profile on Fabhunter. On Pinterest you "pin" things, on We Heart It you "heart" things, on Fabhunter you "hunt" things.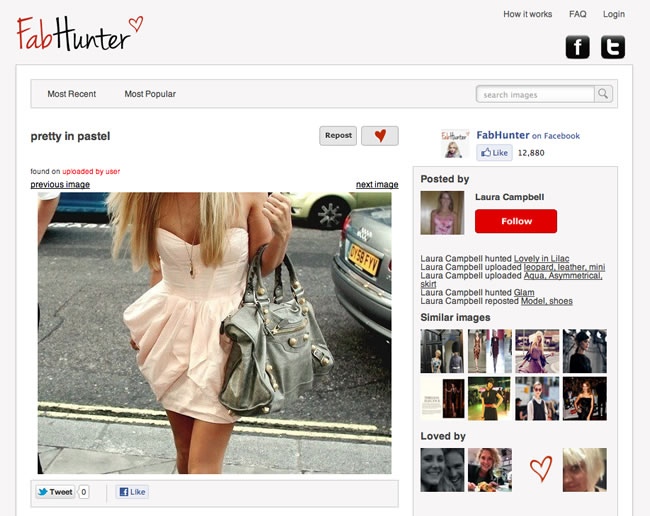 This might all sound very familiar to you, so how is Fabhunter different?
Not content with just being another also-ran visual bookmarking site, Fabhunter has bigger ambitions. For a start, Fabhunter is niched. Taking a page from LookBook, Fabhunter has a textile industry focus. By focusing on the textile industry, Fabhunter aims to become a platform where the fashion conscious can discover and connect with fashion retailers online. Fabhunter aims to partner with leading online fashion eCommerce stores to facilitate the buying of bookmarked fashion.
Fabhunter was seeded in Cape Town, South Africa, in line with the city being named World Design Capital 2014 and aims to establish a local foothold before gauging the viability of international expansion. In the last 30 days the site received 14 000 image views for its 630+ bookmarked images and plans to accelerate its growth by partnering with leading fashion bloggers in South Africa to produce content for the site.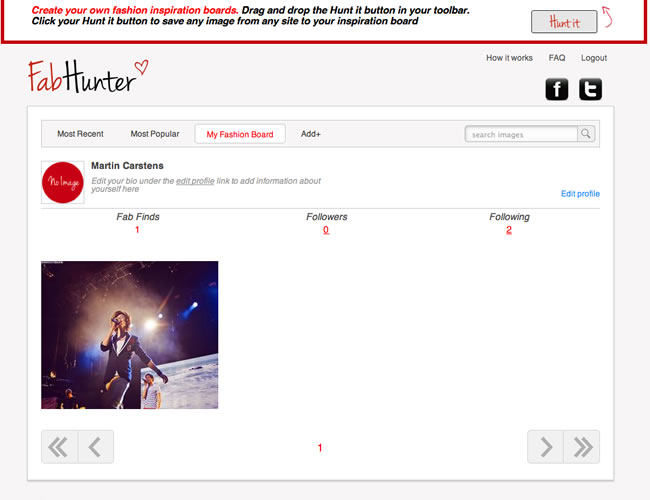 There's been a lot of debate lately around whether or not visual bookmarking sites such as Pinterest violate copyright protection laws. Because users can upload or collect copyrighted images from around the web and store them on visual bookmarking sites, some highlight the negative, while others underline the fact that these sites drive a lot of traffic back to the original source.
Geyser agrees with the latter view and sees a mutually beneficial relationship. Fabhunter surfaces fashion items and the online retailers benefit from exposure and hopefully, sales. Geyser hopes to eventually monetise referrals back to bookmarked sources through an affiliate structure. Fabhunter will use an off-the-shelf link monetisation affiliate structure, such as the one provided by Viglink. Viglink allows a site like Fabhunter to get paid automatically for links from Fabhunter's site to online retailers.
Initially however, Fabhunter's revenue will come from a partnership with an undisclosed online retailer who will act as sponsor. Users will for example, be eligible for a discount voucher at partner stores or on a promotional basis.
The third, and possibly most compelling way Fabhunter could monetise its visual bookmarking service, would be to partner with eCommerce stores to offer instant checkouts with discounted deals on items that have been bookmarked. For example, a user bookmarks a shirt, Fabhunter detects the origin of the bookmark and provides an immediate method of purchasing the item, with an additional discount. It's a long view however as Geyser envisions the implementation to be time consuming.
Fabhunter is close to concluding a deal with with a leading online publisher to give Fabhunter exposure to the publisher's 170,000 monthly readers.
It's still early days for this visual bookmarking service and in its current incarnation offers very little you can't find elsewhere. The most compelling aspect of Fabhunter lies beyond the veneer of its visual bookmarking service. If it can deliver on its eCommerce ambitions, it could be a precedent setting concept. One to keep an eye on.