Spaaza: The glue that brings together online and offline shopping
eCommerce changed everything, but beyond the convenience, choice and financial savings yielded by armchair shopping, there's an armada of disgruntled brick and mortar businesses who find it hard to compete. Why? In the US, big online retailers such as Amazon are exempt from collecting sales tax from online shoppers in the majority of states.
A 1992 US Supreme Court ruling states that online retailers don't have to collect sales taxes in states where they lack a physical presence. The pressure is mounting however, local governments are joining arms with offline retailers to change the laws, as projections of uncollected taxes from ecommerce sales were guestimated to be anything from US$4.5 billion to US$54.8 billion in 2011.
In the rest of the world, uniform value added tax throughout countries make it easier for offline businesses to compete with online counterparts, but there's still that issue of convenience. Why leave the comfort of your own home for the weltering of the crowds? Four reasons.
Firstly, you can get the item immediately. Car. Store. Done. Then, there's nothing like getting a hands-on experience with a product to sway your purchasing decision. Reason number three: services like Shopkick allow offline retailers to offer incentives for you to make the trip down to their caves of commerce. Location-based, walk-in customer rewards. Finally, have you ever found something online, but your payment method or country isn't supported?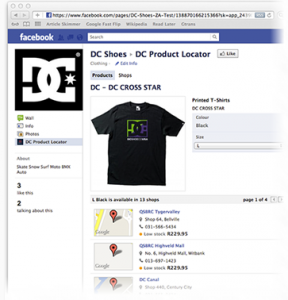 This is where a new startup called Spaaza comes in.
Spaaza (that's a long double "a") works with retailers to combine offline storefront location and real-time inventory data and put it into the places people currently look for product information like Facebook, Google's local product search and retailers' own online stores. For example, Spaaza worked with DC Shoes in South Africa to create a mobile and Facebook app that lists DC's selection and allows app users to locate a brick and mortar retailer nearby.
Jethro Jewell, Retail Financial Manager of DC Shoes and Quiksilver South Africa explains why Spaaza's approach makes sense:
We're seeing a trend emerge where more and more shoppers find and share the products they like online, on tablets, and on their phones, including information about in-store availability and location, then come into the shop to make a purchase. Working with Spaaza puts us at the forefront of the new wave which is seeing the worlds of online and offline shopping become one, and helps us bring customers we're talking to online into our shops. So to put it in surfing terms – we are well stoked!
Spaaza is self-funded. Currently retailers pay Spaaza to distribute their real-time inventory data through the platform, but later on, the company also plans to earn a percentage of sales made from a product discovered through Spaaza.
Based in Amsterdam, founders David Sevenoaks and Sam Critchley — both who worked at geolocation services company GyPSii, now part of Sina Weibo, the popular Chinese microblogging service — want Spaaza's API plug-in approach to be the glue that brings together online and offline.
It's a simple idea, elegantly executed that could drive some much needed traffic back to offline retailers, but I can't help but wish for a central place to go to, for everything. Right now, I'm hoping to find my favourite brands offering this service, but it's hard to see which ones have partnered with Spaaza.
Spaaza faces competition from the likes of Retailigence, Milo and Goodzer in the US, but has less competition in Europe and emerging markets, especially since Spaaza's focus on an API model is a fresh approach.