Contributors A-Z | Top contributors | Edit profile
Dave Blakey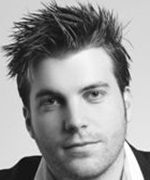 Dave Blakey is the founder of Snapt, a South African company that develops powerful user interface tools in order to effectively deliver open source software solutions for corporate customers. Blakey has a strong entrepreneurial background, having previously launched and developed the hugely successful hardware networking company, Opteq, in 2002. Under Blakey's leadership, Opteq has since gone on to become a world-renowned organisation, servicing multinational corporations, network carriers and ISPs. Since launching in August 2011, Snapt has already acquired a number of heavy-hitting international clients, including NASA JPL, EuroVPS, and NeoAssist, who use Snapt's unique tools to effectively manage server capacity, as well as to maintain and monitor network systems and intra
Website:
http://www.snapt-ui.com/
Recent Posts
With technological advancements in developing nations speeding the growth rate of high impact tech start-ups, many American venture capital firms are now looking further afield to expand their investment portfolios. But what is driving this trend? 1. Lack of local funding There's certainly no shortage of innovative ideas coming out of emerging market countries. Africa, China, Russia and many others are growing steadily, and are producing an ever-increasing number of tech success stories, many with an extensive global reach. However, the potential for ...

Throughout the world, and particularly in emerging market countries, the entrepreneurial landscape remains notoriously difficult to navigate, with an estimated 80% of small businesses failing to sustain themselves for a period of longer than five years. However, with an increasing percentage of jobs now being directly attributable to small business ventures, financial backers in both private and public sectors are slowly starting to acknowledge the substantial impact of entrepreneurial activity on a nation's economy. Yet, in spite the rising global trend ...