Contributors A-Z | Top contributors | Edit profile
Megan Bernstein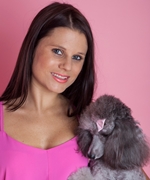 Megan has a love and passion for great brands and extraordinary advertising. She is a true Generation Y baby. Immersed in all forms of new age marketing finding it an invaluable tool. Social media strategist for DigitLab by day, blogger for under5foot and Memeburn by night.
Website:
http://www.under5foot.co.za
Recent Posts
No purchase decision happens by chance. Every thought leading up to why you need the product -- from the rational versus emotional arguments about what the product will offer to the intrinsic and extrinsic benefits -- are all weighed up and part of a very complicated decision-making process. It's all about questions Things like: "Do I need it? Why do I need it? Can I afford it? Can I get it cheaper? What will my friends think? What will my mom ...

So did you get up at the crack of dawn to get your free Wimpy breakfast last week? I didn't, but driving into work I did hear it being discussed at large on various radio stations and they too shared my sentiment of not fully understanding the fascination and dedication of people to get up so early, use their petrol and rush to stand in a queue for breakfast that would have cost them less than R20. The human race ...