Contributors A-Z | Top contributors | Edit profile
Sam Beckbessinger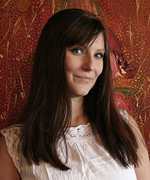 Sam likes anything she can take apart and put back together again. This makes her a big fan of Linux and rusty old cars. She is a Digital Planner at Quirk, which is her dream job because it allows her to obsess about the internet, work with some fabulous clients on creative marketing strategies and do a lot of public speaking. She also writes, lectures and appears as a regular guest on the ZA Tech Show. Sam's addicted to words, specifically those in 140-character combinations, loves Dr Seuss and spends more time listening to The Goon Show than is healthy.
Website:
http://greenhamsam.posterous.com
Recent Posts
No one will argue that the basic literacy situation in South Africa is dire. With access to books being so low (only seven percent of South Africa's schools have a functioning library), several people have proposed utilising the mobile phone -- one device that is certainly not rare in South Africa -- as a platform for accessing books. This is an idea that's been thrown around in South Africa since around 2007, and multiple projects have been started in the ...